Keyport Key Blades - Revolutionizing the Way You Carry Keys
Keyport Key Blade Wall - We have over 800 SKUs on hand
Keyport Slide Compatible Keys with a Universal One-Size-Fits-All Key Head
Are you tired of carrying around a bulky, jingly keychain with several oddly-shaped keys that can scratch your other personal items in pocket or stab you in the leg? Keyport Key Blades are here to change the game. In this blog post, we'll take a deep dive into what Keyport Key Blades are, the benefits of Key Blades, why they're important, and how to get the correct Blades for your Slide. Say goodbye to heavy, outdated key chains and hello to a sleek and organized everyday carry alternative. This means that instead of carrying around a janitor-style keyring that is weighing you down, you can carry a slim, one-handed key organizer that that fits easily in your pocket or purse and that 007 would be happy to carry.
Keyport Slide 4.0 prototypes - Each Slide holds 4 Keyport Key Blades
What is a Keyport Key Blade?
Keyport Key Blades are proprietary keys that take the place of traditional keys and fit securely in the Keyport Slide. Keyport Blades are smaller and lighter than traditional keys as the Skull (universal one-size-fits-all key head) removes a significant portion of the traditional key head's size and weight.
​Keyport Key Blades are compatible with all versions of the Keyport Slide - V.01, 2.0, 3.0, and the new Keyport Slide 4.0 LE1. Like traditional keys, Keyport Blades are easily interchangeable should you get a new key.
Keyport Key Blades are NOT compatible with the Keyport Pivot, which streamlines your existing keys as is.
What Are the Benefits of Keyport Key Blades?
There are several benefits of using Keyport Key Blades instead of traditional keys.
First and foremost, Keyport Key Blades are much more compact and streamlined than traditional keys. By replacing your existing keys with Keyport's proprietary Blades, you remove half the size and weight of traditional keys. Yet, the locks themselves remain unchanged. This means that you can carry all of your keys in one slim device instead of having to juggle keys on a bulky, jingly keyring. Key Blades are crucial for maintaining the Keyport Slide's minimal form and for allowing true one-handed access.
Never seen before gif of our patented Blademaker machine decapitating a key head.
Second, Keyport Key Blades are very easy to use. You don't have to fumble around with a bunch of keys to find and select the one you need. Simply slide the appropriate Key Blade forward in your Keyport Slide and insert it into the lock. When you're done, retract the Blade back into the Keyport Slide, and it will be ready for the next time you need it.
Bucket of decapitated key heads - The head sometimes makes up the majority of the weight, which is why a loaded Keyport Slide typically weighs less than 4 regular keys. Every year we recycle thousands of these heads.
Finally, Keyport Key Blades are very secure. Each blade is made from high-quality materials and is designed to fit securely into the Keyport Slide. This means that you don't have to worry about someone snapping a photo of your keys or your keys falling out of your pocket or getting lost. In fact, the Keyport Slide even comes with a FREE two-year subscription to KeyportID lost & found service.
What Types of Keys Are Compatible with the Keyport Slide?
Virtually all metal keys - residential, commercial, high-security, auto, moto, etc. - with the following dimensions (length less than 2.0", thickness less than 0.125", and a height less than 0.46") are compatible with the Keyport Slide and can be converted to a Keyport Key Blade.
Bit & barrel keys, skeleton keys, and other thicker keys in addition to auto fobs with integrated buttons / alarm remotes are most often not compatible.
U.S. & Canada
For most U.S. and Canadian keys, we maintain an inventory of Keyport Key Blades that match your existing key types so that you can get your keys duplicated onto them.
Custom Key Blades
For high security keys (also known as restricted keys), keys for which we are unable to purchase blanks (like some bike lock keys), and those keys we are unable to identify by key type (i.e. key manufacturer number), we can convert your original key (or ideally a copy of that key) to a Keyport Blade.
For a custom Key Blade, we require you to send us your key (again, ideally a physical copy of your key). Our technicians then remove the traditional key head and add our custom Skull to the original key, converting your original key into a Keyport Key Blade. There is no extra charge for the conversion when you purchase a Keyport Blade.
It is important to note that when we convert a key to a Keyport Key Blades, you will not be getting your key back in the same form factor in which you send them to us. We will remove the key head and attach our universal one-size-fits-all key head to the shank so that they are Keyport Slide compatible.
Examples of keys requiring custom conversion are high security keys (also known as restricted keys) including Medeco, Assa, Mul-T-Lock, Abloy, Evva, and Schlage Primus. Kryptonite bike lock keys also require custom conversion to a Keyport Key Blade because we don't have easy access to Kryptonite key blanks.
International
Since we current don't stock international key blanks, we treat all international keys as Custom Key Blades. Therefore, you will need to send us copies of your keys which we will convert into Keyport Key Blades by removing the key head and attaching our universal head. But before you send us anything, please fill out a Key ID Form so that we can ensure that we are able to convert any keys you wish you send us.
International customers can learn more here.
Are Auto & Moto Keys Keyport Slide Compatible?
We currently only convert metal keys into the Slide along with a few select transponder chips for motorcycles and older vehicles.
​
We recommend you connect your auto fob to the Slide via the D-ring using a ParaPull or Quick Release. For electronic proximity keys that don't require you to pull them out of your pocket, you don't really even need to connect them. That way, you are not pulling out your auto fob every time you use your Keyport.
How Do Keyport Key Blades Work?
Keyport Key Blades replace your existing keys and fit securely in the Slide, offering a simple and efficient solution for carrying your keys. You simply extend them out with the slide with your thumb, operate them just like a traditional key, and then retract them into the Slide when finished.
Getting the Correct Keyport Key Blades for Your Slide
To get you the correct Keyport Key Blade blanks, we identify your keys by key type (manufacturer code #, e.g. SC1, KW1) in order to match them to your existing set. Then we send you the Keyport Key Blade blanks (for security purposes) which you can take to any certified locksmith to be duplicated from your existing keys.
For a high security key, a key for which we cannot obtain a corresponding blank, or a key we are unable to identify, you will need to send it in so that we can custom convert it into a Keyport Key Blade.
​We treat all international keys as custom conversions because we do not carry international key blanks. If you prefer, you can send us international key blanks (so long as you take full responsibility for providing us the correct blank) which we can custom convert and then you can get your original keys duplicated onto them.
Unfortunately, we cannot just send Skulls as we use a special Blade assembly machine which cuts the keys to very precise measurements so that the Skull parts can be ultrasonically welded to the shank... not something you want to try to duplicate at home :)
Identifying Your Keys By Key Type (i.e. Manufacturing Code #)
You don't need any prior knowledge of key types. If fact, we ask that you don't try to identify the keys yourself as the are tens of thousands of different key blanks out there, and many look alike. All you have to do is to order a Standard Blade for each your different keys, including high-security, home, lock, office, auto, moto, etc. Our key experts will help you get the correct Key Blades once you submit a picture of your keys on our Key ID Form after you have placed your order.
Re-Ordering Keyport Key Blades
If you know which Blades you need to reorder, simply add the number of Blades you need and write the [code] x [the quantity of each Blade you need] in the Special Instructions for Seller field in the shopping cart. For example: SC1 x 2, KW1 x 1, NA14 x 1
Again, if you are not a key expert or we haven't already identified your keys by key type before, please do not try to identify your keys by yourself. Many keys look alike but have very subtle differences that will not work for your particular lock. Let us take care of that process for you, or take your keys to a certified locksmith to be identified.
How to Submit Your Keys for Identification
Once you have placed your order, print out the Key ID Form
Fill out the form with as much information about your keys as possible
Take photos of the front and back of your keys on the form per the instructions and submit them to our Secure Upload Facility 
For international orders outside the USA & Canada, please visit this page prior to placing your order.
It is very important that you complete a Key ID Form and receive the results via email before sending us any keys for custom conversion.
Key ID Results
It takes up to five business days to review your Key ID Form and provide you with the results via email. In the case of ordering Blades alongside your Slide 4.0 LE1 pre-order, it will take approximately 10 days since the volume of orders is significant.
If we find any incompatible keys, we're happy to refund part or all of your purchase.
Getting Your Keys Duplicated onto Keyport Key Blades
Once you receive your Keyport Key Blade blanks in the mail, you will need to get your original keys duplicated onto them. Each Keyport Blade is labeled with a number or letter that corresponds to a specific key, so you can easily keep track of which Blade is which.
Any certified locksmith or experienced key cutter can cut your Keyport Key Blades (i.e. duplicate your original keys onto Keyport Key Blades). All you will need to do is take the Blade blanks we send you along with your current set of keys to a local locksmith to be duplicated. If you take your Keyport Key Blades to a certified locksmith, we will guarantee the duplication and send you a replacement Key Blade if they make a mistake during the duplication process.
Here are some resources to help you find a certified locksmith near you:
We DO NOT recommend taking your Blades to a big box retailer or hardware store as their key cutting staff often do not have the experience needed to identify and process a wide range of keys.
In conclusion, Keyport Blades are a game-changer for those who value organization, convenience, and style in their everyday carry. By replacing your bulky, jingly keychain with the sleek and efficient Keyport Slide, you'll not only declutter your pockets but also gain easy, one-handed access to your most essential items. So, embrace the future of key management and give your keys the upgrade they deserve with the Keyport Slide and one-of-a-kind Keyport Key Blades.
For more Keyport Key Blade FAQs, click here.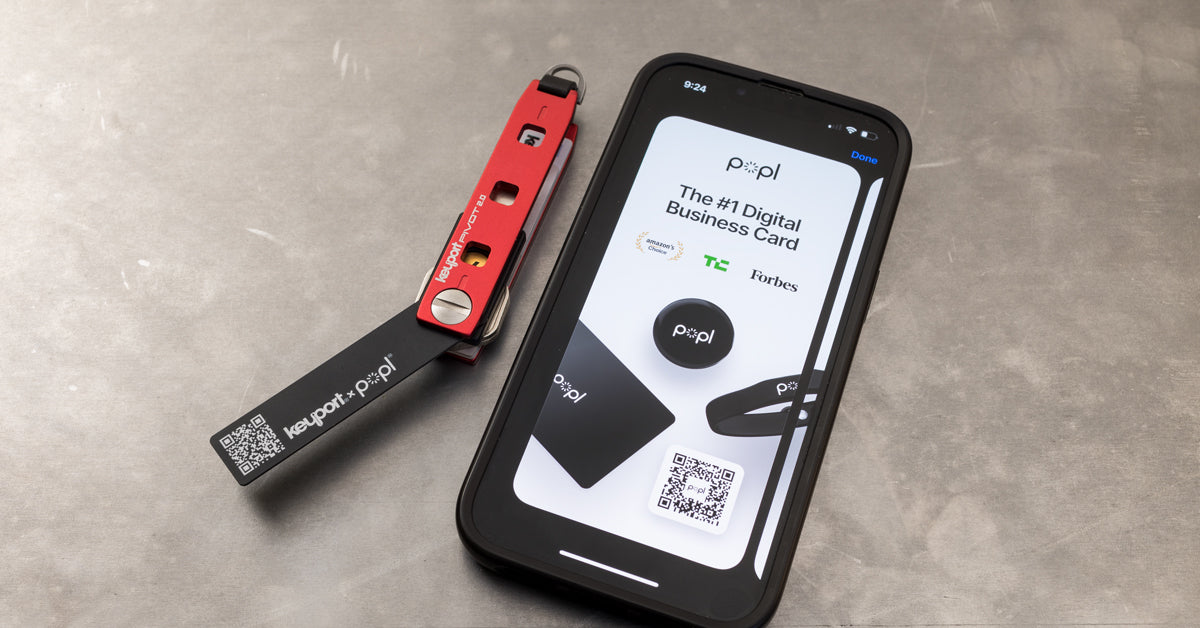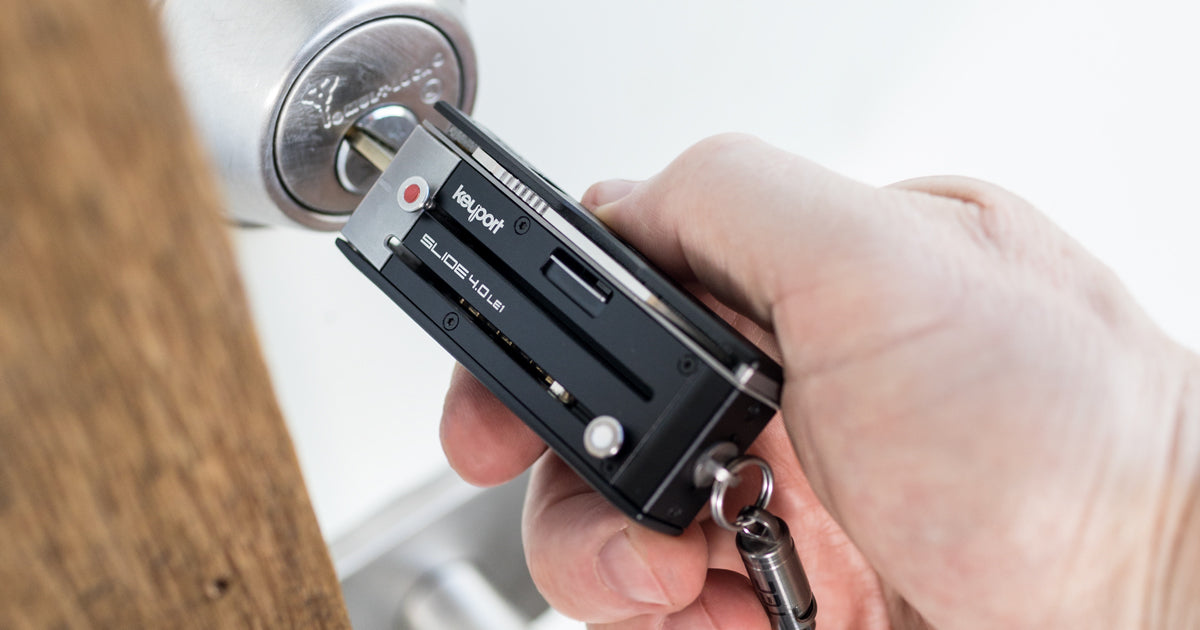 Keyport Slide 4.0 LE1 Update #2
Our beta testers have been putting the 4.0 Slides through their paces and will be posting reviews on the Slide 4.0 LE1 - Titanium and Slide 4.0 LE1 - Aluminum about their experiences this week, wi...
Read more