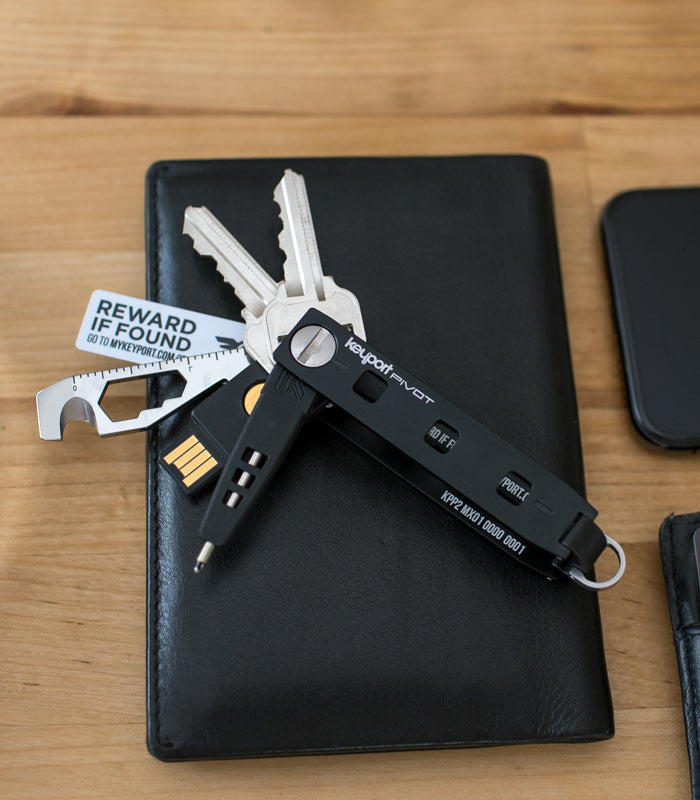 SWISS ARMY STYLE KEY ORGANIZER
"This handy device combines pretty much everything into a single, compact package that's completely customizable."
"Keep keys condensed—and in easily accessible order—with this utility key chain."
"Perhaps the most compelling aspect of the Keyport is its modular design, which means that you can continue adding features and attachments to your heart's content."
"Who is this for? Honestly? Probably everyone, because it's modular. You can change it up for your personal needs... ...this thing is incredible."
The Pivot is an amazing multi-tool that has the ability to really transform your daily life and activities.
"It looks good and feels even better in your hand. You can also add expansion tools to the Pivot to further its functionality."
The Keyport is intended to complement an individual's smart phone by collecting most, if not all, your pocket clutter into one location.
"As a piece of gear that you're going to use multiple times every single day, it's an investment worth making."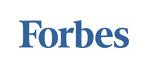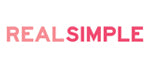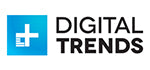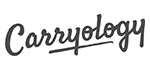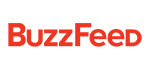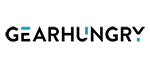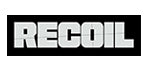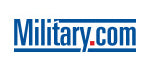 Premium Materials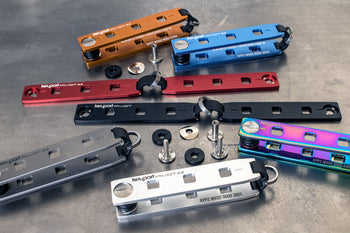 Customizable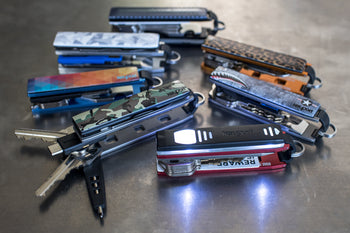 Recovery Service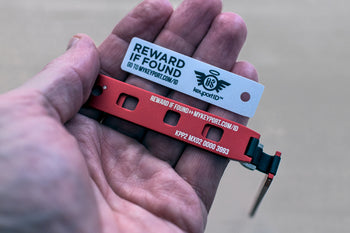 Holds 2-8 Keys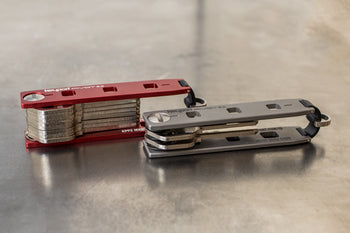 Modular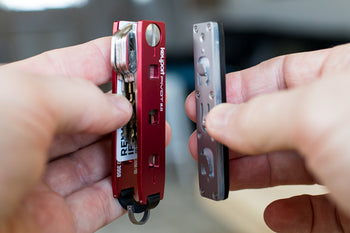 Locking Pin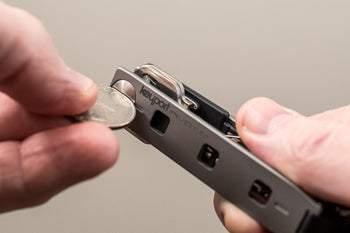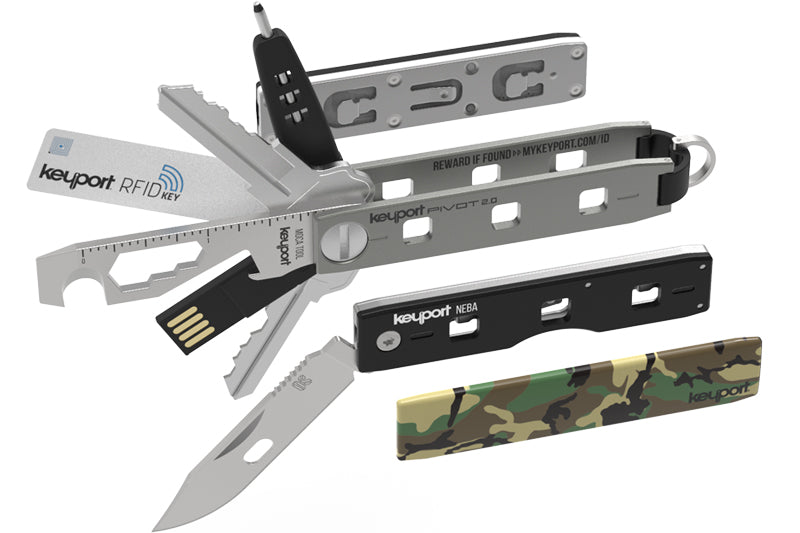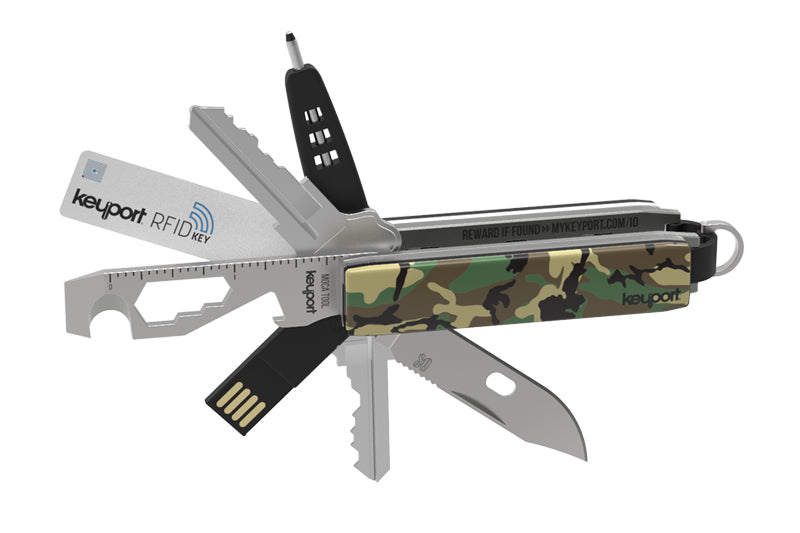 The Keyport Pivot integrates your keys, pocket tools, & smart tech into a fully customizable, modular key organizer + multi-tool.

"The Pivot with the custom faceplate is exactly what we were hoping to find... a useful and stylish product that will be used every day and that tastefully shows off our brand."
-David-

"I just wanted to let you know how happy I am with my new Keyport. You've done an excellent job creating the entire system, and I can't say enough good things about it. Fit and finish are superb, function is excellent, and the convenience of it all is fantastic.  I absolutely LOVE this thing!"
-George-

"Best gift we've ever given! Six months later and I have had two recent thank you's for them. Great to know that the team still loves them."
-Kristin-

"Modern, full of utility, and fashionable, Keyport is a great way to get in front of and stay in front of your VIPs"
-Josh-

"Quite a few key organizers like this have appeared recently; I've tried several, and Keyport is my favorite. The keys don't protrude too much because you install them on one side of the device only."
-River T.-

"Among most of the popular brands, Keyport is my one and only one choice. First of all, it attracts me most is the Vision of Keyport designer, not settled merely with a Swiss tool key chain plus edc tools attachments, but to develop a platform where infinite unusual attachments are possible."
-Ricky M.-

"Exactly what I was looking for, seems to be made of high quality materials, and designed very well. They even made the screw click into position as you tighten it on your keys so that it won't come loose. And no sharp edges to wear holes in your pocket like some other brands."
-S. Embry-
We Design Modern Everyday Carry Solutions. You Build Them.
Keys + Tools + Tech + Lost & Found ALL-IN-ONE
Keyport Pivot Unique Features
The Keyport System integrates stacking modules, custom Side Plates, a Locking Pin, & our unique Lost & Found Service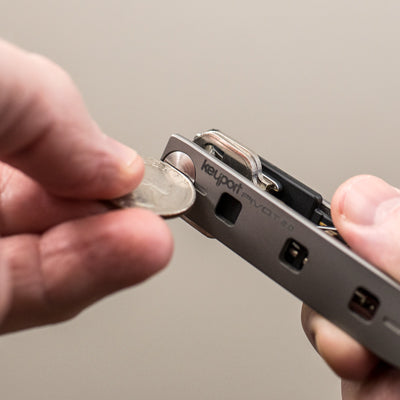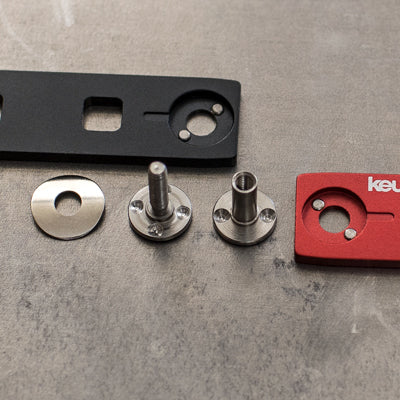 PIVOT LOCKING MECHANISM
Engineered to click & lock every 90° so your key stack never loosens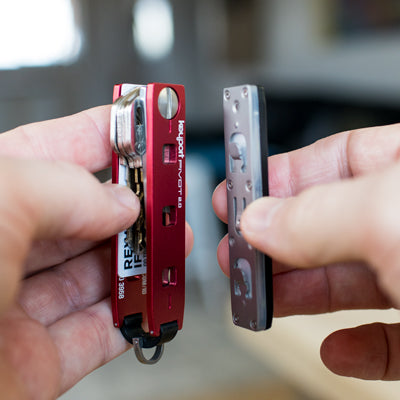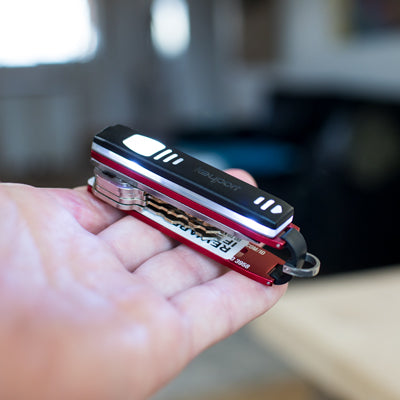 MODULAR EDC TOOLS
Build your ideal EDC solution one modular component at a time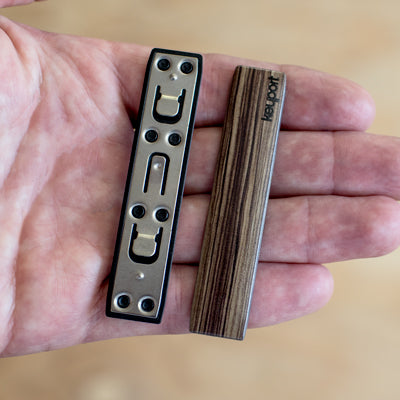 CUSTOM FACEPLATES
Faceplates available in camouflage, carbon fiber, wood grain, etc. Or add your favorite barcode.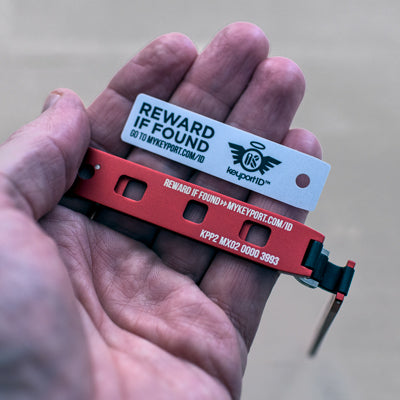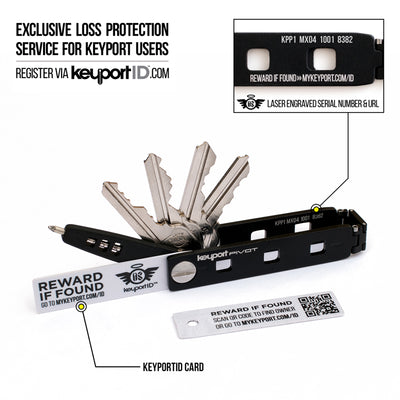 LOST & FOUND SERVICE
KeyportID, our exclusive service, solves the biggest problem associated with your keys... losing them
How to Build Your Keyport Pivot
Build a Custom Pivot to Your Own Personal Specs
Step 1
Choose Your Pivot
Material & Color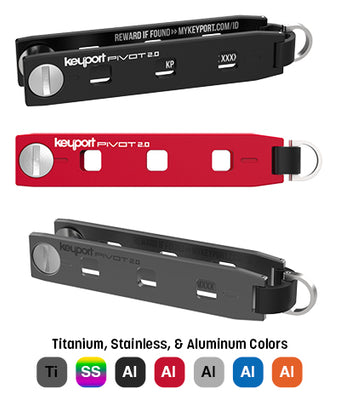 Step 2
Choose Optional Inserts
Pivot 2.0 holds up to 8 keys + Inserts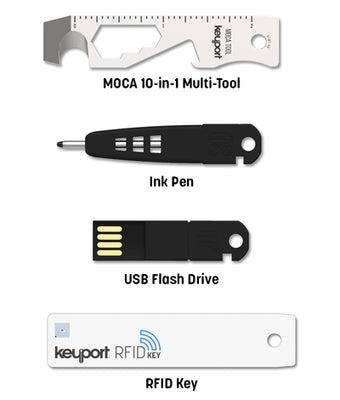 Step 3
Choose Optional Modules
Add 1 Module or Faceplate per side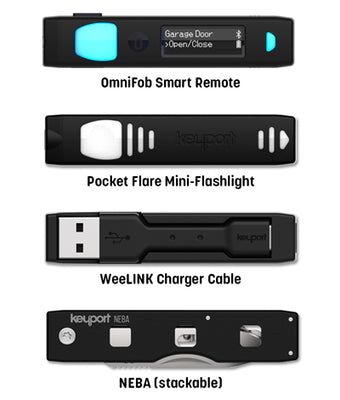 Step 4
Choose Optional Accessories
Faceplates & Add-Ons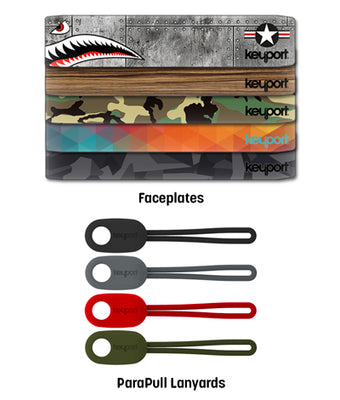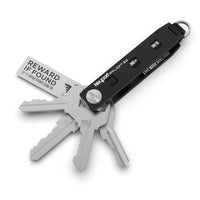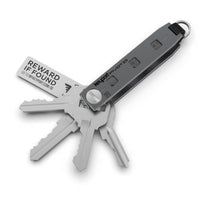 AVAILABILITY: In stock (693 items)
The Aluminum Keyport Pivot 2.0 is the next generation of our Swiss Army style modular key organizer.
AVAILABILITY: In stock (294 items)
The Stainless Steel Keyport Pivot 2.0 is the next generation of our Swiss Army style modular key organizer.
AVAILABILITY: In stock (696 items)
The Titanium Keyport Pivot 2.0 is the next generation of our Swiss Army style modular key organizer.