You've heard of EDC, but what about KeyDC?
The idea of EDC (Everyday Carry) means different things to different people, but there is one item that typically makes it on everyone's list. What's your KeyDC?
If you identify yourself as an EDCer and spend any time on Instagram, you already know the drill. Common hashtags like #EverydayCarry, #edcGear, #PocketDump, and #HandDump yield thousands of EDC pics of all varieties.
While some EDCers carry themed sets of gear - all black, all titanium, all copper - and others show how much they can carry or how little they can carry, there is one item that is represented in nearly every EDC photo: keys.
Cellphone, wallet, keys. Pocketknife, flashlight, keys, wallet. Watch, wallet, keys. Almost every dump has some form of #KeyDC. Those that don't show their keys are typically not showing the ugly part of their EDC. Those that do, are typically showing their KeyDC key organizer of choice.
No matter how you slice it, unless you sit in an unlocked room all day, every day, you need some form of key management. Here is a breakdown of some of the most popular key solutions for EDCers.
Keyrings
The simple keyring was probably invented about 10 minutes after the key. If you need to carry more than one key, this is the dead-simplest accessory.
Split rings are the norm, but there have been advances over the years to address their shortcomings. The FreeKey gives your fingernails a rest by making it easier to open the split ring to add or remove keys.
The keys will knock against each other, so if your profession (or hobby) requires you to move with stealth or near sleeping babies or dogs, be ready to jingle.
Lanyards or Chains
College students and bikers don't usually overlap (ok, maybe in the beer department), but they are both commonly seen using similar key solutions: lanyards or chains.
Walk around any campus and you'll see a university-branded - in team colors of course - around the neck or hanging from the pocket of at least a few co-eds. Key cards or conventional keys can be attached to the long loop of ribbon, making it a versatile solution that is hard to lose.
The tougher version typically seen in use by bikers follows the same idea, but is accomplished with a chain. At the end of that chain can be a wallet or keys, but the concept is the same: stay connected to what's most valuable to you.
For frequent access, keys are sometimes connected to a retractable wire that is typically connected to a belt like this heavy duty Key-Bak. Extend to use, let go to retract. Your keys are always close at hand, but for all lanyard and chain key solutions, they're going to jingle.
Key Pouches/Wallets
Key pouches or a key wallet are pretty old-fashioned and uncommon, but worth mentioning. Often made of leather with a snap closure, key pouches/wallets have a series of rings or hooks that let you attach a row of keys. They flip out, and the pouch keeps them from jingling in your pocket.
Electronic Keys
Someday, all locks may be opened by digital keys… except for the billions of locks that already exist. So while physical keys aren't going anywhere anytime soon, electronic keys are worth mentioning.
Many vehicles require a chip a physical ignition key to start. Others have a proximity-based RFID transmitter built into the fob. Some door locks require a barcode scan, NFC, RFID, magnetic or bluetooth signal to open. Or biometrics. Or a combination.
Wow. Electronic keys have been around for awhile, and yet are still in their infancy. There are many different platforms for electronic keys, and no single standard. Well, not yet.
Swing-Out Key Organizer
The very first Keyport prototype back in 2005 was a swing-out key organizer. While the concept was shelved initially in favor of the debut Keyport Slide series, a number of other companies developed their own versions of the same swing-out concept.
Typically, they are just two plates with some bolts connecting the keys between them. Some of them are pretty high quality, and some of them aren't. It's not too hard to tell which is which if you look at reviews.
When Keyport decided to revisit the swing-out key organizer concept - which ultimately became the Pivot - Keyport evaluated all of the most popular swing-out solutions on the market, and fixed some of the fundamental flaws found in all of them:
The Pivot has a uniquely-designed locking mechanism to keep your keys from working loose as you use them.
The Pivot is designed to accept tool and tech modules attached to the sides. These include modules like a pocketknife, a light, a Trackr-compatible locator and decorative side plates.
The Pivot can be expanded to hold up to 15 keys with the expansion kit.
Each Pivot has a unique serial number to make it compatible with the KeyportID program to recover your Pivot if it is ever lost.
There are a lot of swing-out key organizers on the market, but don't think that the only difference between them are the available colors and the brand name.
Slide-Out Key Organizers
The Keyport Slide 3.0 is the latest version of the Slide series. Specially engineered key "Blades" connect to the sliding mechanism. Color-coded buttons (Nodes) let you silently select and slide the appropriate Blade into position.
The chassis is available in 4-Port and 6-Port configurations, letting you carry a combination of keys, pen, flash drive and other "Inserts" in the Slide, while also allowing you to connect various tool/tech modules to the sides.
The Slide is the access device of the future. It can hold chipped auto keys, barcodes, and RFID chips for electronic locks. The Locator LED Module and KeyportID program mean you'll never lose your Keyport… under the couch cushions or across the country.
The Slide is a premium KeyDC solution and endlessly customizable multi-tool that works with yesterday and today's locks, and will continue to evolve to work with tomorrow's locks.
Honorable Mention: Lockpicks
James Bond? Thomas Crown? SEAL Team 6? Many people - fictional and very, very real - use lockpicks. Like any tool, they can be properly used… or abused.
Lots of EDCers carry lockpicks as a just in case measure, or even for fun (Locksport is gaining popularity).
Think of lockpicks as "key alternatives" and only carry them if you're allowed to and know what to do with them.
Covert Products Group (CPG) designs and creates everyday carry, low-viz tactical, and gray man gear for agencies and responsible citizens. CPG frequently collaborates with Keyport.

Top 10 Best EDC Wallet Options
Of the three most essential everyday carry items - wallet, phone, & keys (ahem…Keyport), there are a ton of wallet options to filter through. In an effort clean up your pockets, streamline your...
Read more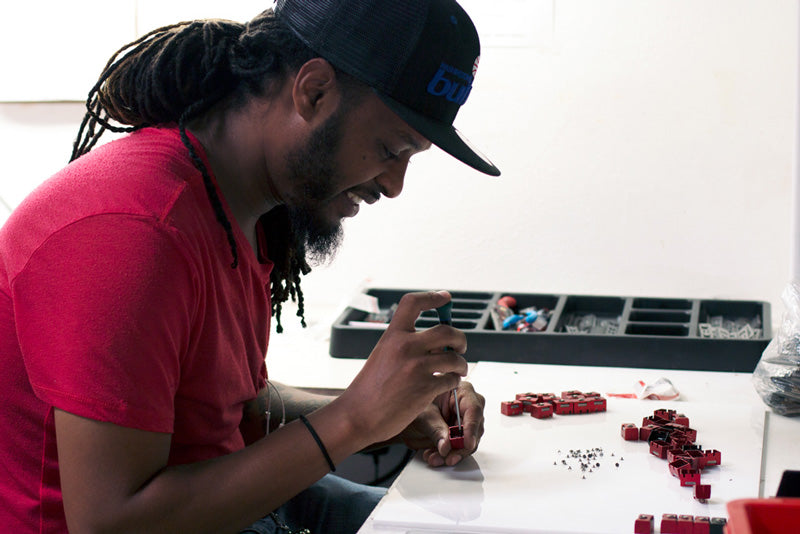 The Legend of Nebiyu Detti a.k.a. Neb
Neb's signature phrase, "I GOT YOU," was a testament to his friendly disposition, team spirit, outstanding work ethic, and attention to detail. He took on every task, big or small, with a smile. N...
Read more