OmniFob™ (patent pending) is a tiny shortcut remote that triggers the apps you use to control your smart devices, scenes, routines, and even your cars. It's like having multiple smart buttons in one tiny remote that also includes a Chipolo powered bluetooth locator, flashlight, and other unique features. Currently OmniFob can hold up to 33 devices / scenes / routines, etc., and it has a potential capacity to hold up to 150. But since it only has two buttons, how fast is it to access all your devices if you have to scroll through the menu each time? The answer is… Quick Controls :)
First Look at the OmniFob App
With quick controls, you don't have to look at your OmniFob to activate it. You can simply perform a double-click, long press, quad click, or shake and click. to trigger your most frequently used IoT devices, scenes, and routines. Quick controls combined with a scene or routine (that activates multiple smart devices at once) allows you to trigger smart actions extremely fast without digging your phone out of your pocket and navigating to an app or talking to your phone/hub. Quick controls are completely customizable in the Keyport app so you can assign your most frequently used actions to the quick controls of your choice. Currently we are building five standard quick controls in addition to a panic trigger for personal security (more on panic later).
Here's an example of five quick controls you could program yourself in our app.
OmniFob Quick Control #1 - Wake Up Scene
Two clicks on Select Button to turn on lights, adjust thermostat, and open shades
---
OmniFob Quick Control #2 - Garage Door
Four clicks on the Select Button to open/close garage door
---
OmniFob Quick Control #3 - Lights Off Scene
Long press on the Mode Button to turn off lamps and switches
---
OmniFob Quick Control #4 - Lock/Unlock Car
Long press on the Select Button to lock/unlock your car
---
OmniFob Quick Control #5 - Relax at Home Scene
Shake & click the Select Button to dim lights, arm alarm, turn on fan, & lock doors
---
Sounds & Beeps
As an extension of Quick Controls' five programmable triggers, OmniFob also has two full spectrum RGB LED lights and a buzzer, which we are also customizable in the app to give you even more ways to find your devices quickly. If you have five Quick Controls programmed, you can also use beeps and colored LEDs to find the additional devices quickly. For example, you could assign a blue light and a single beep to a device you need to control once in a while. Let's say you have a scene or even an automation (for your savvy smart home users) you like but there's one device you want further control over like a light you'd like to have off at certain times of the day. You can easily find it by scrolling through the menu until you see the blue light flash or hear the beep, then double click the select button to activate it to trigger it.
From a smart home novice to an experienced user with a fully automated smart home, OmniFob will make your smart home experience fast, fun, secure, and efficient.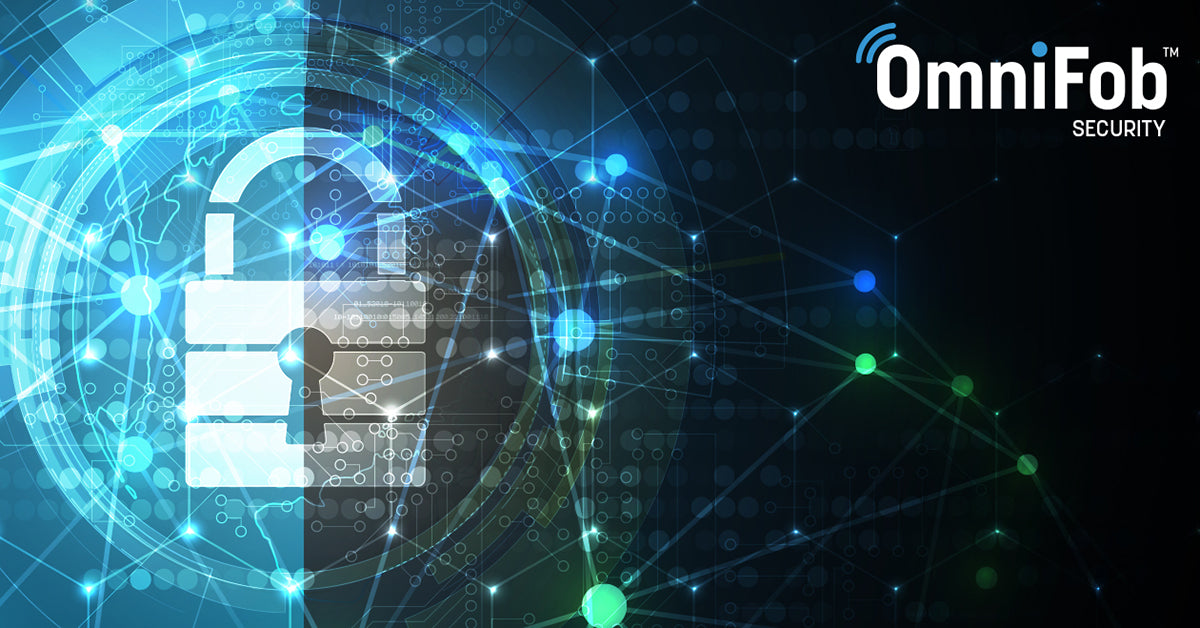 OmniFob™ Security is Paramount
OmniFob pairs with your smartphone via Bluetooth and acts as a shortcut to your smart apps and devices (home, auto, & personal security). Using your phone as a hub, the OmniFob app calls secure...
Read more