The Absolute Best Magnetic Breakaways by Urban Carvers
We are excited to announce a new partnership with EDC accessories manufacturer, Urban Carvers. Based in Gore, OK, Urban Carvers creates some of the best handmade magnetic breakaways (aka quick releases), tactical beads, carabiners, lanyards, and knife parts anywhere. UC's founder, Dustin Bean, has been an avid maker and DIY guy for many years. During his time as a motorcycle builder, auto mechanic, professional tree climber, and woodworker, he has amassed a wide range of skills that he has focused on his passion for high quality, custom everyday carry.
Urban Carvers is particularly known for its premium quick releases and EDC beads and is quickly developing a loyal following. UC has been featured on many everyday carry sites, including two of the most popular - ExcessorizeMe and Best Damn EDC.
Magnetic Breakaways / Quick Releases
Magnetic breakaways or quick releases as we call them feature a split ring on each end and connect via two of the strongest grade neodymium rare-earth cylinder magnets (N52 rated 7 - 9 lbs) that are encased in a wide range of materials - Plastic (Delrin), Brass, Copper, Aluminum, Titanium, and even Zirconium. The casing protects the magnet from chipping and breaking, which are common problems with unmounted rare-earth magnets. These quick releases don't require batteries, don't wear out over time, and require NO maintenance. You can use them to organize and separate keys so you carry only what you need to at the time.
Urban Carvers quick releases come in several finishes - stonewashed, blasted, or standard, and each one is meticulously hand-crafted.
Why Quick Releases Are So Useful
Quick releases are ideal for a keychain or Keyport because they allow you to break up your keys into two distinct pieces. This is useful for a wide range of reasons including:
Saves your car ignition from excess weight and keeps your keys from slapping and scratching the dashboard of your car

Enables you to put the keys you are not using in your pocket so that they are not blowing around in the wind and scratching up the triple trees on your motorcycle

Lets you give your car key to a valet without having to hand over the rest of your keys

Allows easy access to certain items without having to manage your whole unwieldy set of keys and tools

Enables you to hang your keys on virtually any metal surface like a refrigerator or file cabinet
Urban Carvers quick releases are ideal for your Keyport because they provide easy access, keep your fancy auto fob handy, reduce the amount of items you have to carry all the time, and help make them easy to store when you come home. Plus they come in a range of materials to suit your personal style, a hallmark of Keyport system.
What Makes Urban Carver Quick Releases the Best Magnetic Breakaways
We have long been on the hunt for a dependable and high quality quick release. One of the biggest challenges is that if the magnet is not strong enough (which tends to happen with cheap ones and even some not so cheap ones), they come apart unexpectedly, and you could lose half of your carry. Not good if you have a high-end auto fob attached to your keychain or Keyport.
There are several options out there, but after a thorough review, we came to the conclusion that Urban Carvers has the most customizable, high quality quick releases on the market.
UC has the widest variety of materials and styles available.
UC offers the most customization - materials, colors, finishing options as well as split ring colors, materials, and sizes.
UC has the strongest quick releases we have tested.
UC quick releases are not just for keys. They can also be used for hang tools, flashlights under the hood, etc. You can attach them to pretty much anything that is made of a ferrous metal.
They have been rigorously tested both by us and by thousands of happy Urban Carvers customers.
They are made in the USA.
Like Keyport, UC is very customer focused. No waiting on hold to speak with a Tier 3 customer support rep abroad. If you need help, you can speak directly with Dustin or one of his closest team members.
EDC Tactical Beads
Tactical EDC beads are primarily decorative attachments for your keychain, lanyard, or other everyday carry items. Think of them as the EDC equivalent of fancy rims on a car. They can also assist with providing better grip (easier to pull out of a pocket) and in certain circumstances may provide a measure of self defense as getting hit by a metal bead is not every pleasant.
Urban Carvers beads are really gaining traction. UC's beads are all handmade and also feature a wide array of materials - from Delrin to aluminum, brass, copper, glow, titanium, and other exotic materials. Dustin and his team release new ones nearly every week, and they sell out very quickly. You will have to check out one of their Free Bead Fridays!
Keyport and Urban Carvers
We are excited to work with Dustin and Urban Carvers to offer you a range of quick releases, and we will continue to refine the offerings based upon your feedback.
For now, we are launching the following three limited edition quick releases in the Keyport Store:
EXCLUSIVE Keyport KO Brass Quick Release
This special quick release is designed specifically for a Keyport. It can be connected to the D-ring of the Pivot 1.0, Pivot 2.0, or Slide.
Alternatively, it can be connected directly to the Pivot's pin.
Shop Keyport KO Brass Quick Release
Blackout Delrin Quick Release
Shop Blackout Quick Release by Urban Carvers
V2 Titanium Quick Release
Shop V2 Titanium Quick Release by Urban Carvers
You can visit Urban Carvers for more quick releases and custom beads here.
Urban Carvers on Social: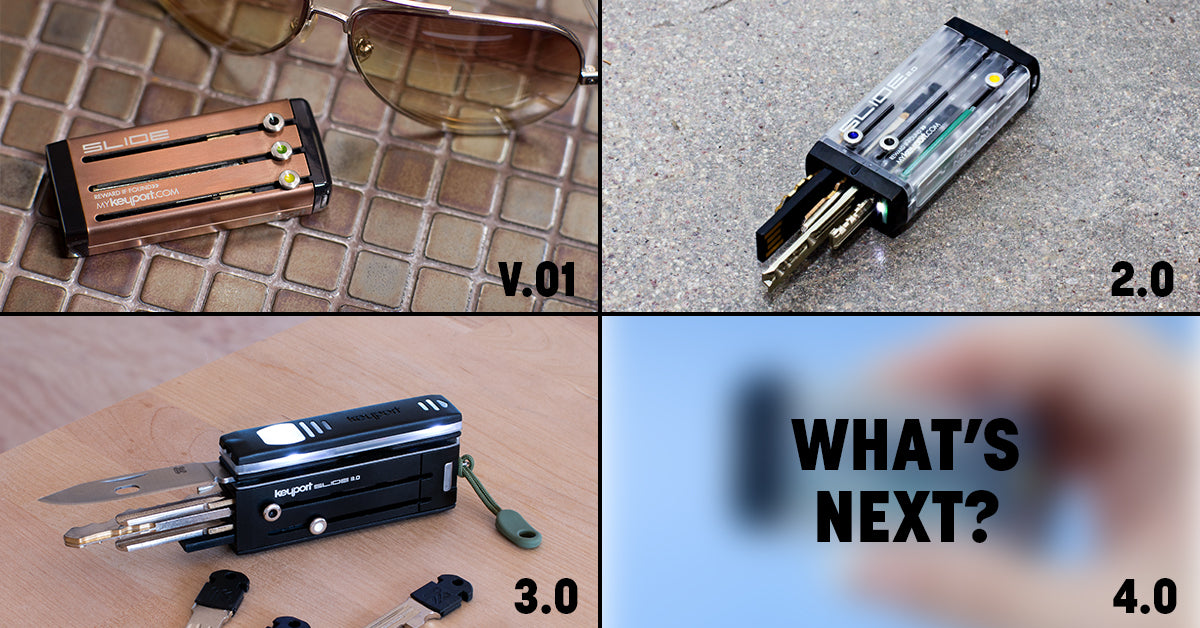 It has been almost a year since we sold out of Slide 3.0s. We are very sorry that the Slide has taken a backseat to the Pivot 2.0 and OmniFob over the past several months. Behind the scenes, we ha...
Read more