Keyport Customer Value Index - How We Build the Best Products for You
One question that is a constant topic of discussion here at Keyport is: What value are we bringing to our customers? Another equally important question that quickly follows is: Who is our customer exactly?
Surely, our customers all have excellent taste, and yes, the majority of our customer base is male, although we certainly would like to incorporate more women into the fold. But beyond that, it is pretty difficult for us to group everyone into just one or two segments not only to market to them effectively, but also to ensure we are giving customers something they really want and will use consistently.
Keyport Customer Value Index
So, we came up with the Keyport Customer Value Index™️, a measurement tool which helps us identify what are the most important benefits for a particular group of Keyporters or prospective Keyporters.
It helps us to consider the benefits and features we are adding as we update existing products or think about new products.
It helps us to distinguish our products in a crowded field of options.
It keeps the customer at the center of our universe and to make sure that we incorporate their interests, use cases, and feedback into our product development.
Utility, Convenience, Technology, Security, and Style
The Keyport Customer Value Index originated from this statement many years ago, "Keyport develops streamlined everyday carry solutions at the intersection of utility, convenience, and style." These three watchwords were the foundation upon which we build our modular everyday carry system. We have since added two more - technology and security. These watchwords describe what our customers base their everyday carry purchase decisions on.
Utility - What Functional Use Does the Product Provide?
•  Modularity * allows the product to be multi-purpose
•  Customer can create your own custom multi-tool for the modern lifestyle
•  Our products streamline both physical and digital EDC *
•  It includes our unique KeyportID Lost & Found Service * (solves #1 issue with keys)
* Unique to Keyport
Convenience - Easier to Handle Than a Bulky, Jingly Keychain?
•  Compact and lightweight
•  No jingle or rattle
•  Doesn't stab you in the leg (or worse)
•  Keys don't move around (same position every time)
    ~ Slide - select the correct key or tool without looking *
•  One-handed access (Slide gets the * here)
•  One button access to smart tech * 
* Unique to Keyport
Technology - Are We Building State of the Art?
•  Smart access (OmniFob) *
•  Incorporates RFID via Keyport RFID Key *
•  Ledger compatible *
•  YubiKey 2FA compatible *
•  USB 3.0
•  Charging cable 
* Unique to Keyport
Security - How Can We Keep Our Customers Safe?
•  Our key organizers protect your keys from spies and thieves
•  Prevents electronic pick-pocketing (Faraday cage via Keyport's metal chassis)
•  Includes KeyportID lost & found service * (connects owners and finders anonymously)
•  Bluetooth locator (Chipolo via OmniFob)
•  We keep YubiKeys secure while they keep your data secure 
* Unique to Keyport
Style - Will Our Customer Be Proud to Carry This and Show It Off?
•  Range modules, inserts, and accessories  
•  Wide range of Faceplates *
•  Custom branding *
•  Slide & Blades *
•  Titanium, stainless steel, aircraft aluminum, high-grade polymers *
* Unique to Keyport
While there is no single right answer as to exactly who the prototypical Keyporter is, the Customer Value Index does help us to align our product development with the types of customers who will find what we are building of particular interest and use. For example:
•  Everyday Carry Enthusiasts - Utility + Convenience

•  Gadget Enthusiasts - Technology + Convenience

•  Men's Accessories - Style + Convenience
•  Tech Company Employees with YubiKeys - Security + Technology + Convenience
•  Motorcyclists - Convenience + Style
We will continue to build out this index and welcome your input.
Are we missing any watchwords you might suggest?
What customer groups do you think would benefit from a Keyport based upon this index?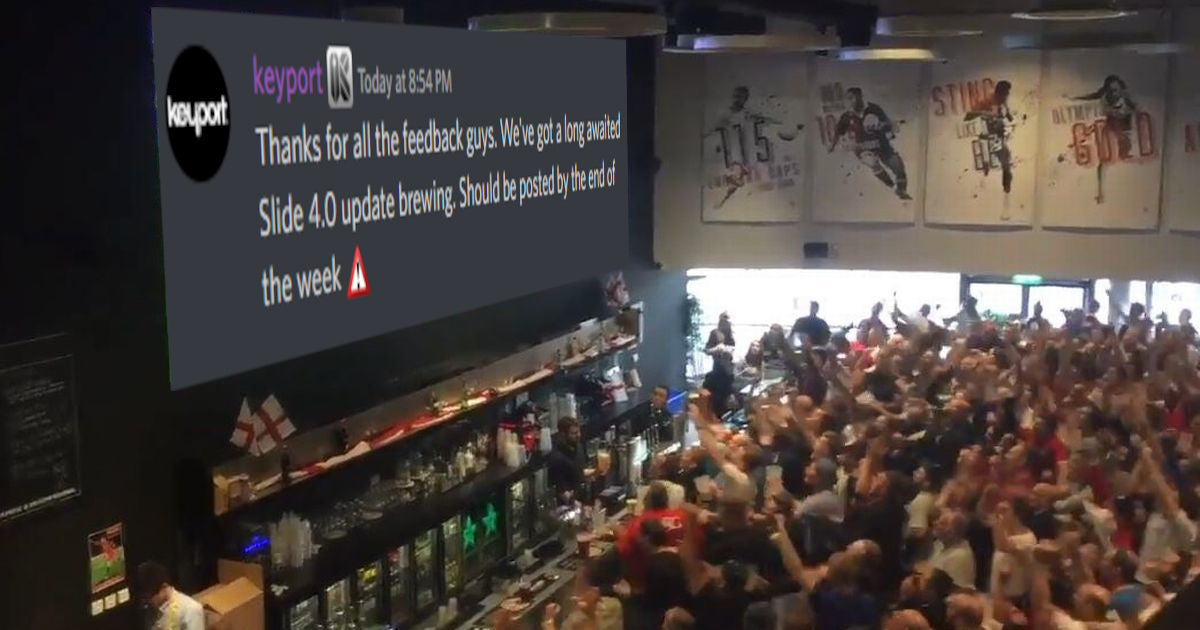 It's a fact, the Keyport Slide is the most beloved product we've ever made. All the emails, tweets, and other comments on our socials we get every week to bring back the Slide have been much apprec...
Read more